Annotated Bibliography
Writing Guide
If you are an undergraduate or pursuing an advanced degree, sooner or later, you will be required to prepare an annotated bibliography. They are an important component of many different fields of study and academic activities. This article will explain exactly what annotated bibliographies are, why they are used, and how to write one.
What Is It?
An annotated bibliography is an organized list of academic resources, such as books, academic papers, or journal articles. However, unlike a standard bibliography, each reference in these types of papers is followed by a paragraph-length annotation, or descriptive and evaluative commentary to assist the reader in understanding the referenced item and its overall value to a field of research. Annotations are sometimes confused with abstracts, which are also 100-200-word descriptions of a source. However, an abstract is intended only to provide a descriptive summary. An annotation, on the other hand, evaluates a source as well, to help the reader gauge its value.
Purpose
Such works are written for several reasons; here are four of the most common purposes for which you may write one:
Thesis Formulation. A bibliography can assist with identifying and assessing scholarly work done in the field or topic that is a thesis subject.
Research Summary. In some cases, you may be required to perform such work to summarize the research you have done on a particular subject.
Literature Review. Annotated bibliographies are sometimes used as a literature review to summarize current knowledge or research that has been conducted in a certain field.
Define Items of Interest. Sometimes professors, researchers, or other academics prepare bibliographies to note sources that may be of interest to other academics in their particular field.
Types
There are two primary types of bibliographies: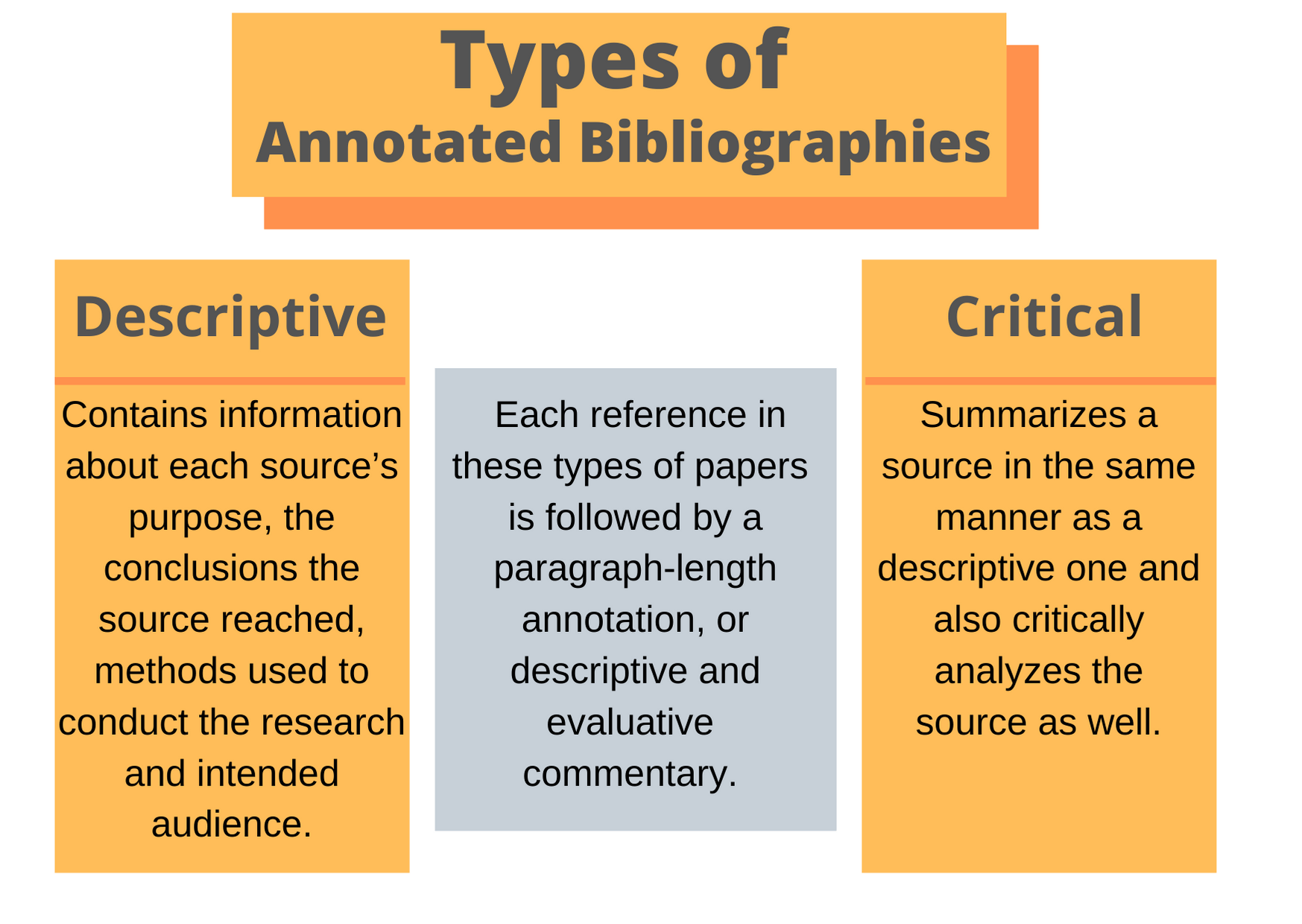 Descriptive (which is sometimes called an informative one) is very similar to an abstract, although it usually is more detailed; it typically contains information about each source's purpose, the conclusions the source reached, methods used to conduct the research and intended audience. However, they do not evaluate the source.
Critical (also called analytical) are the most commonly used type. While this type of bibliography will summarize a source in the same manner as a descriptive one, it will also critically analyze the source as well. They will draw conclusions about the research methodologies that the source used, the results of the research in question, or both.
The Process
Now that you have a general understanding of what such works are and why they are used for, let's discuss how to create your very first one.
Step 1: Identify Sources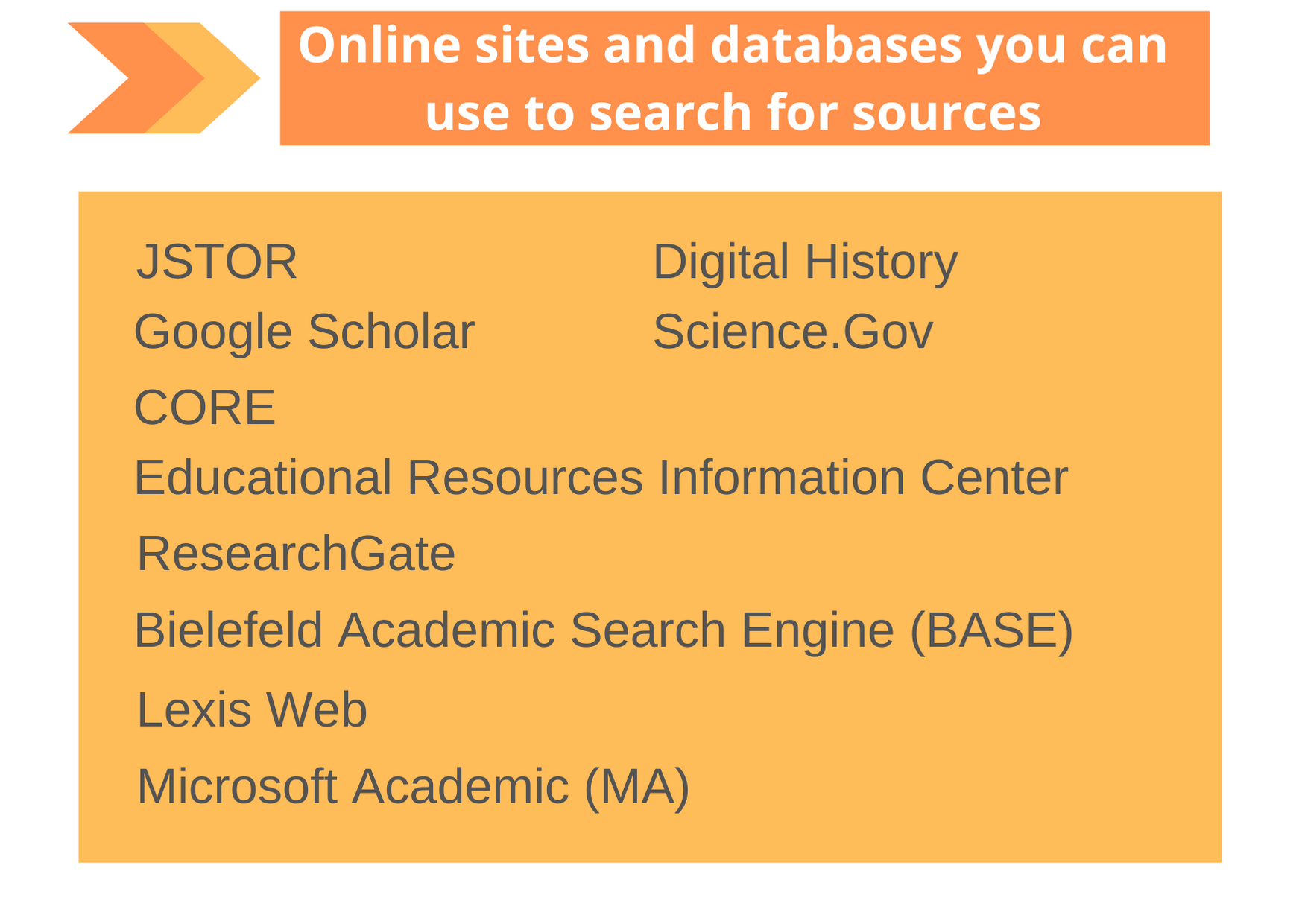 When you begin to write an annotated bibliography, the first thing you must do is to identify potential sources to include within it. If your university has a research library, that is one of the best places to begin your search. Most research libraries will have a comprehensive online catalog system that will enable you to search for potential sources. Additionally, there are several other online sites and databases you can use to search for sources; these sites include:
JSTOR, an abbreviation of Journal Storage, is a comprehensive database that enables full-text searches of thousands of digitized journals and periodicals, along with books and other texts. It should be one of the first places you look for potential sources.
Google Scholar is a free database that contains hundreds of millions of academic papers, patents, and other texts across all disciplines, so you will definitely want to consider it during your search for good references.
CORE is a database dedicated to open-access research papers. It has aggregated hundreds of millions of these open-access research papers in its database, making them easy to search for and access.
ResearchGate. While you're conducting your search for sources, you should definitely consider using ResearchGate. This site enables you to connect with other academics or scientists who are conducting similar research so that you can share ideas or compare sources.
Bielefeld Academic Search Engine (BASE). Created by Bielefeld University in Germany, BASE is a powerful search engine that will enable you to search for scholarly sources in websites and local data collections.
Lexis Web. If you are writing a paper related to the law or a legal topic, you should definitely consider Lexis Web. Lexis Web is a powerful search engine that will enable you to search for law-related topics and inquiries on the web and in Lexis's own database.
Science.Gov. is a free search engine that enables you to search dozens of federal databases and thousands of federal government websites for papers and data related to federal research.
Microsoft Academic (MA) is a powerful academic search engine offered by Microsoft. It enables you to search for millions of digitized academic articles, texts, conferences, and other scholarly works. This cutting-edge search engine applies semantic inference to your search terms, often delivering superior results when compared to other search engines.
Educational Resources Information Center (ERIC) is another online academic database maintained by the US Department of Education. If your piece is covering or includes topics on education, you should definitely consider using ERIC.
Digital History. If your work is going to cover historical topics, then Digital History is worth a look. Digital History is an authoritative database on American history, which enables you to search for millions of scholarly articles and texts related to the subject.
After concluding your search, you will likely find more sources than you could or should include in your work. Once you think you have a sufficient amount of sources on hand to move forward, you will have to determine the best way to narrow the scope of your annotated bibliography, so you can determine which sources to include in it and which to discard.
Step 2: Determine the Scope
Your piece will not be useful to you or anyone else if it is not bound by some sort of logical constraints. In order to ensure that the works you annotate in your paper achieve their purpose, you must determine the scope of the sources that you will include in it. There are many different ways to focus the scope; here are four of the more common methods used:
Time. Some bibliographies establish a time window and only include works published within that period.
Methodology. Research-centric and other technically focused pieces may narrow their scope to include works that used specific research methodologies.
Geography. It may make sense to narrow the scope of an annotated bibliography to include works concerning a given country, state, municipality, or other geographically defined regions.
Source Material. A scope can be limited to certain types of sources; for example, it may only include articles, books, or academic papers.
Sometimes it may make sense to use more than one type of scoping methodology; in other cases, your professors or the assignment may dictate your scope. Once you have decided upon a scope, you will be ready to move on to the next step.
Step 3: Select your Sources
Once you have decided upon your scope, you will be ready to decide which sources to include in it. While your scope will help shape the sources you put into your work, there are other things you should also consider before including or discarding a potential source, such as:
What does this particular source contribute to the field or subject in the scope?
What did this paper, article, or book conclude about the overall topic of the bibliography?
How does this source inform the current understanding of the annotated bibliography's overall topic?
Once you've thoroughly evaluated your potential sources, you will be ready to select the ones you believe are best suited to cite in your work.
Step 4: Write Your Annotations
Finally, once you have selected your sources, you can write an annotation for each source to create your annotated bibliography. In general, you will create your annotations by following these steps:
Cite the source in the bibliography, using either the MLA Style or by following the guidance provided by either your professor or the academic institution you attend.
Describe the sources' main points, point of view, key themes, the research methodology followed, conclusions reached, and the intended audience.
Summarize the author's credentials, expertise, and any bias he/she may have had in writing the text or conducting research.
Explain why the source is useful to the field of study, and briefly compare it to other sources you have included or referenced.
Evaluate the strength of the source or lack thereof.
Don't be shy to ask for help if you need it - our team can create a high-quality annotated bibliography for you.
In general, an annotation should be approximately one paragraph consisting of 5-6 sentences, 100-200 words in total. Try to look at some examples of annotations prior to writing your first annotated bibliography; it will help you better understand the style of writing these types of papers.
Annotated bibliographies are important for advancing academic understanding in your chosen field of study. They will focus your understanding of a particular field; they will also help you share knowledge with others as well. If you follow the steps and advice provided here, you will be fully prepared to conduct your research, narrow your scope, select your sources, write your annotations, and complete your first annotated bibliography as soon as you receive the assignment, so good luck!