Business Plan
Writing Guide
A business plan is a formal, written document that describes the purpose of the venture, its goals, and the ways to achieve them. In many cases, it will also describe how to start a business as well, the way that the enterprise will be organized, the types of financing or funding it requires, and the strengths of its strategy relative to competitors. While such a plan may evolve over time, it will serve as an important "road map" to help an entrepreneur stay focused as he or she attempts to bring the startup to life and make it thrive.
Purpose
A business plan will enable you to accomplish many important tasks as one builds their company. Some of the things to use it for include:
Focus Your Thinking. If you have a general idea for an organization, committing that idea to paper will help you flesh it out, mitigate any potential weaknesses, and make the overall plan stronger over time.
Find Partners. If you need a partner or partners to bring your idea to life, a good plan can help to convince them to join your team.
Excite Investors. A plan could make a big difference when you are trying to secure financing from prospective investors.
Assure Lenders. If you intend to obtain a loan or line of credit from a bank or other lending institution, you will likely need to provide them with such a plan to assure them you are a good risk.
Win Customers. Before you even begin making a product or providing a service, your business plan can help convince potential customers or clients to select what your company is offering.
Secure Grants. There are several Federal, State, and municipal grants available for small organizations and startups. Many of them will require you to submit a plan in order to win the grant and secure funding.
Share Common Purpose. If you have employees or plan to hire them in the future, your plan will help them understand your vision and goals, so your workforce and teammates can contribute to the company's success.
Complete the Program. Some particular study programs imply creating a business plan as a part of the coursework. Your final grade might be significantly influenced by the quality of this plan.
Your plan will likely remain a work in progress that evolves over time. As you show it to various people and organizations, their comments may affect your thinking and cause you to revise it. However, even if it changes considerably, having a good business plan to guide you will be invaluable to building a successful company.
Steps of Writing
Step 1: Start with a Mission
The very first thing you need to do is to clarify your company's purpose. The best way to do that is to write a clear mission statement that sums up what your venture is all about. The more precise your mission statement is, the better. For example, Internet giant Google's mission statement is "to organize the world's information and make it universally accessible and useful."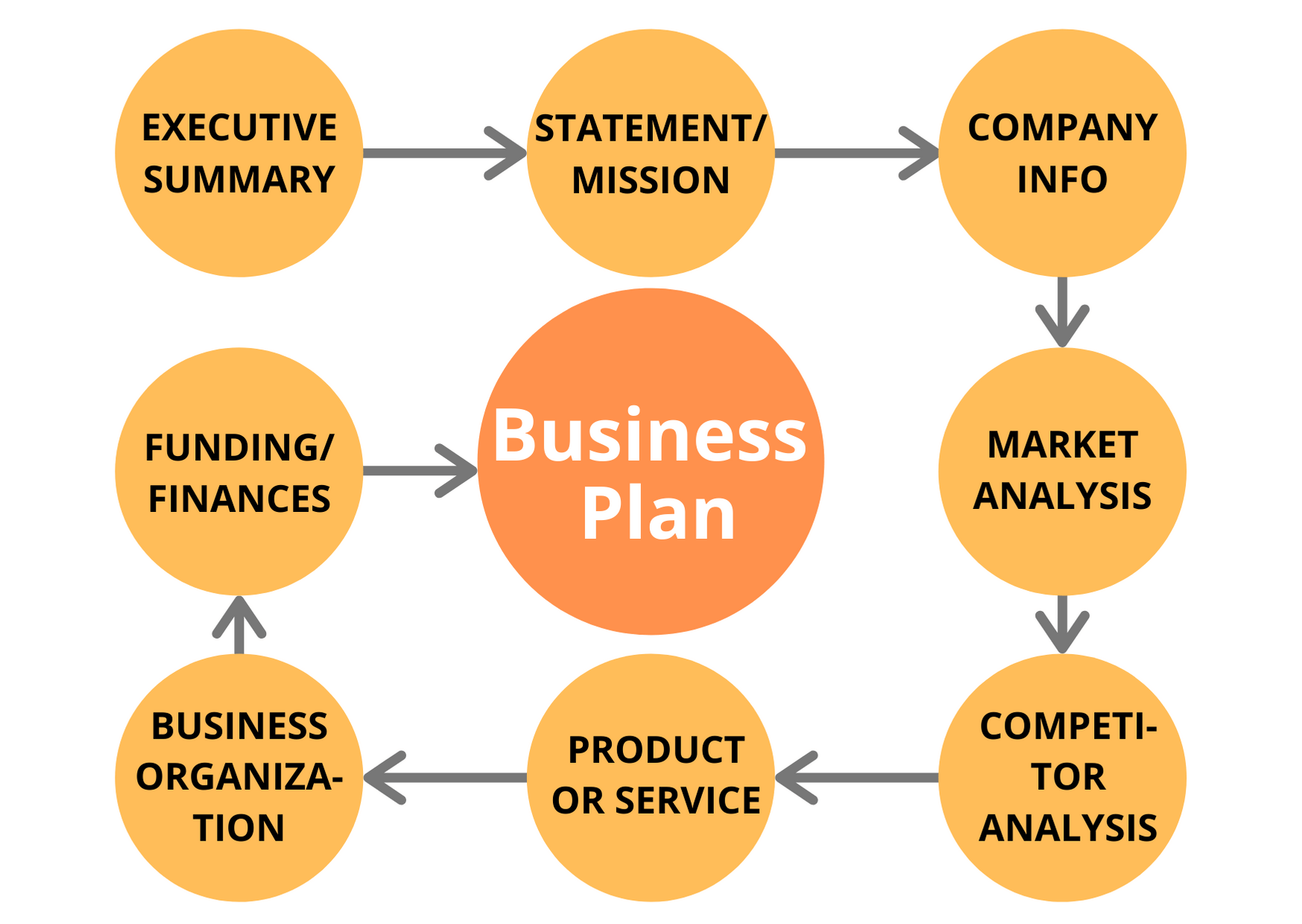 Your mission statement will help you determine your goals, and help you flesh out the rest of your plan. It will also help keep you focused throughout all phases. Referring back to your mission statement can also keep your employees and you from wasting time and resources on activities that aren't relevant to your company's core purpose.
Step 2. Write a Summary
Once you determine your mission statement, build upon it further by writing an executive summary of your business. It will provide an overall snapshot of what it is about and what it intends to accomplish. Such summaries may provide information about how the venture will compete in its market niche and why it will be successful. This section should be succinct and to the point; one to three paragraphs should be enough to help provide an understanding of your idea and what you are setting out to accomplish.
Tip: When you are preparing to write your plan, expect to write it twice. First, you should have a formal written document done in Microsoft Word or some other word processing program. Next, you should have a PowerPoint or other presentation that complements it. You will use the latter to brief prospective clients, customers, partners, lenders and investors as you attempt to convince them to support or finance your organization or use its products or services.
Step 3. Provide Basic Company Information.
At this step, your business plan should provide some basic information about your company - details on when your company was founded, any qualifications or certifications it has, proprietary technology or processes, patents, special skills or other key information. You should also provide biographical and professional information about key members of your company team, so people have a better understanding of what your company is capable of.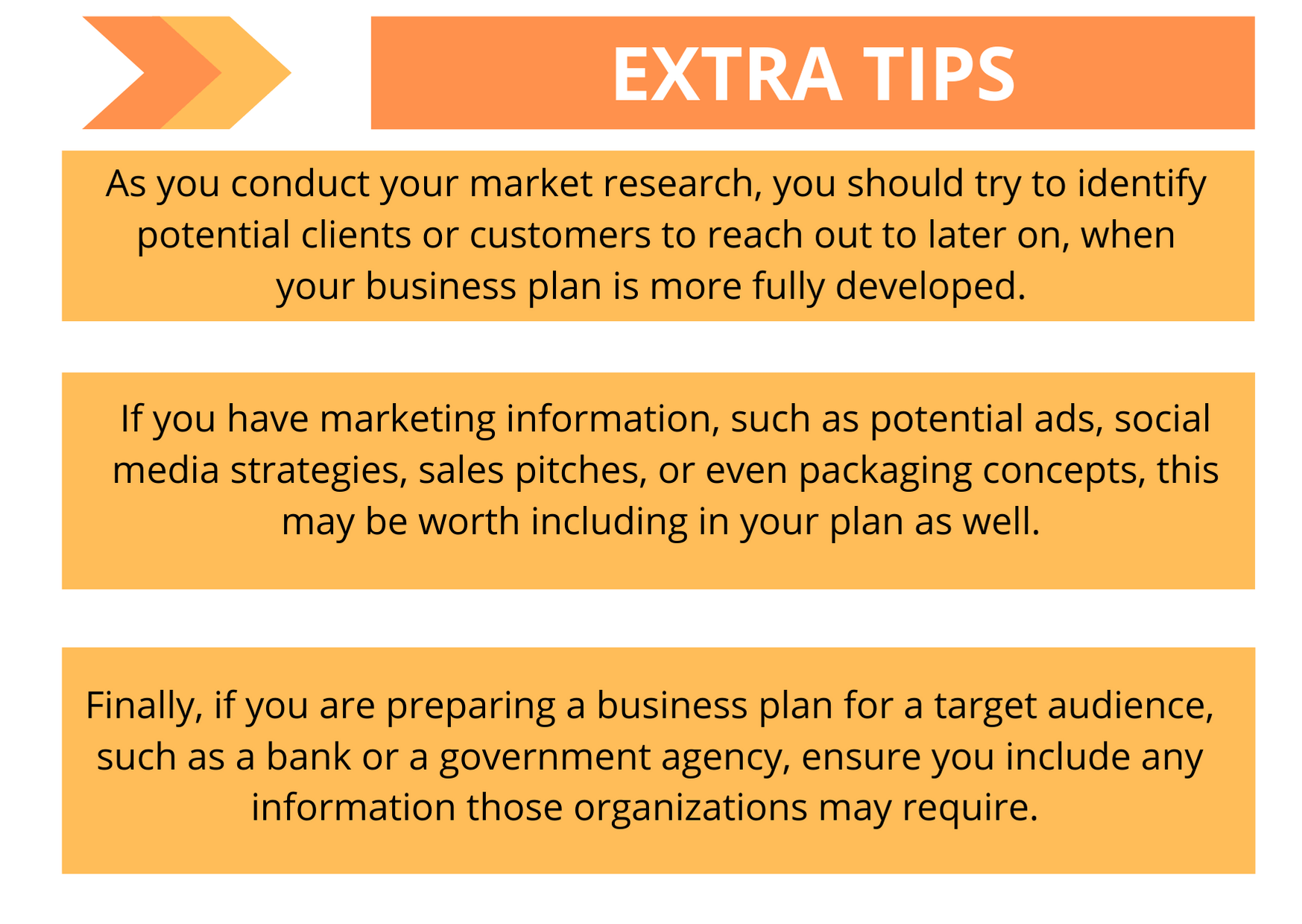 Step 4. Conduct Analysis
In order to understand the market that you are about to enter, conduct a market analysis, and then summarize your findings in your plan. There are several different ways to do this:
Survey Potential Customers. You can directly contact potential customers or clients, either by calling or emailing them , or sending out some sort of survey, to assess the market your organization will compete it.
Obtain Secondary Research. Unless you are starting an obscure type of business, it should be easy to find existing market research you can use online.
Groups. Your local alliance or chamber of commerce can be an excellent resource for conducting market research.
Libraries. Public libraries can be useful for gathering information about a particular market.
Government. Depending on your niche, chances are the Federal or local government will have some sort of invaluable information to assist with your market research. The USA.gov website is a great place to start.
Use these resources, and others, to get the best understanding of the market you plan to enter. Then, summarize your findings for inclusion in your plan. Doing so will demonstrate to others that you understand exactly what you're getting your company into. It will also help you to further refine your overall strategy, so you can successfully compete in your market.
Tip: As you conduct your market research, you should try to identify potential clients or customers to reach out to later on, when your business plan is more fully developed.
Step 5. Write Description
Once you conduct your market research, you should prepare your product or service description. Write about exactly what you are going to provide for the market. You should describe why your particular product or service is going to be competitive in the market. If you developed your product or service prior to completing your market research, you should make any necessary adjustments after that research is complete.
Tip: If you are manufacturing a product, you should include a picture of it in your plan. When you present your plan to an audience, it is often a good idea to bring an actual sample of your products to them to see, hold, or use if the product is in a close to final form.
Step 6. Determine your Organization
You will need to determine the best way to run your company, and then include that information in your business plan. If your company is going to consist of only you and a handful of employees, this should be relatively easy. However, if your company is going to be larger, with multiple locations and activities going on, this section will require more thought. Drawing an organizational chart to ensure you are accomplishing all management activities is one of the best ways to think through how you'll manage your company. Once you settle on a structure, you can present a finalized organizational chart to describe it in your plan.
Step 7. Funding and Finances
The finance and funding section is a critical part of your business plan. In order to begin anything, you will need to determine exactly how much money you will need to get your venture started. Ensure you capture all startup costs, including things like licensing and permits. You should also determine how much money you'll need to operate for the first two to three years. Finally, you should use your previously completed market research to provide an estimate of the revenues you expect to earn.
Once you have all of this information, summarize it as precisely as possible in your plan. Lenders, investors, and potential partners will use this information to make decisions about whether or not to provide you funding.
A good business plan will help you strengthen your strategy and help you win over customers, lenders and investors. If you struggle with it, make sure to contact our team that can create a high-quality business plan for you.