Your resume is the way to promote yourself to future employers. It's the very first thing they see before they meet you in person. Employers receive thousands of them every year, so the one that you are working on should provide a reason to pick you from the crowd.
Not sure where to start when it comes to writing your CV? Let's talk about the three main resume formats you can choose from and how to decide which one is right for you.
Formats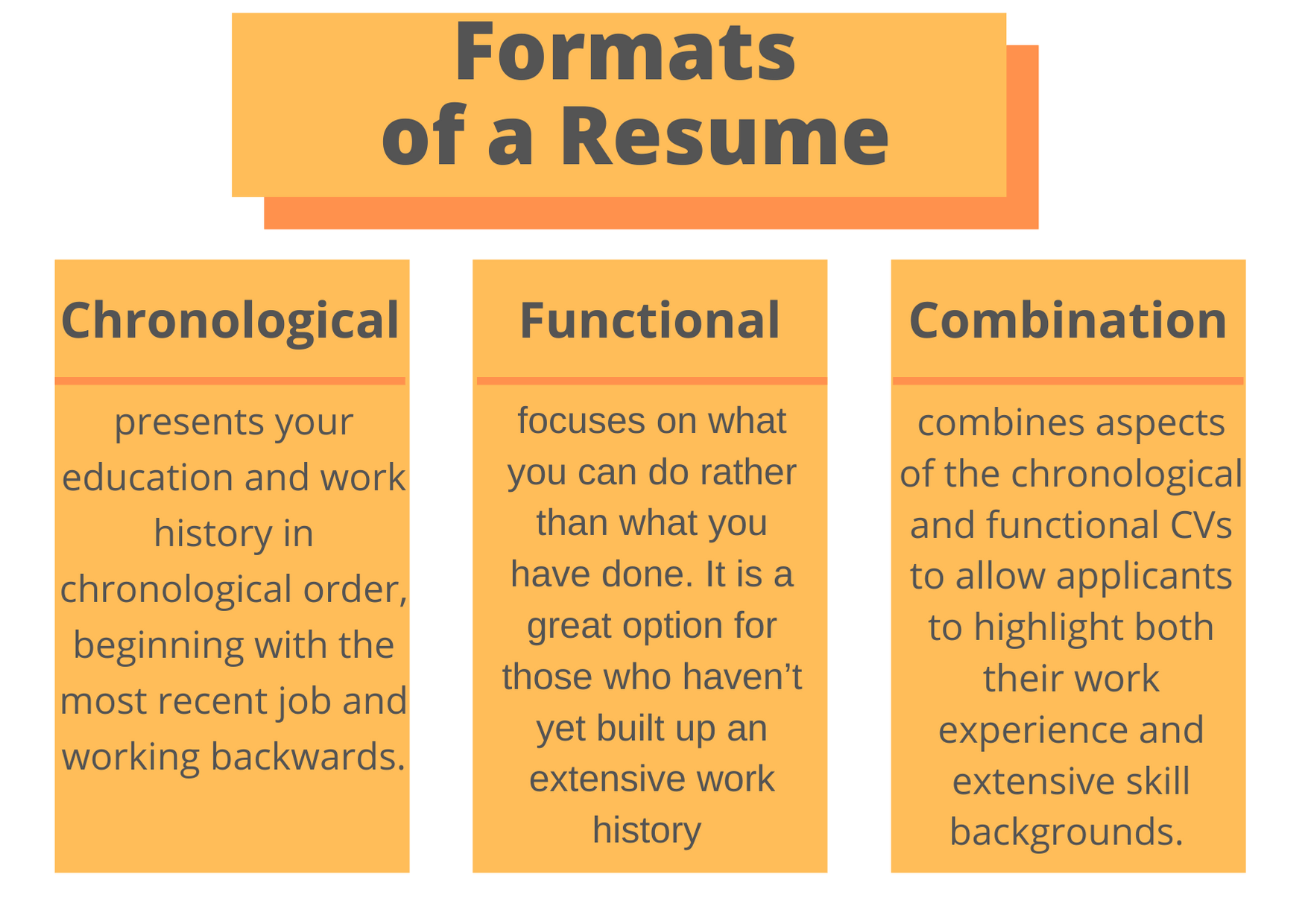 The first thing you should do when sitting down to write a CV is to decide what format to use. Choosing the right format for you can help your resume stand out from the pack by highlighting your strengths and diminishing your weaknesses.
Chronological is the most common form of a CV. This format presents your education and work history in chronological order, beginning with the most recent job and working backwards. This is the go-to resume format for people with work experience or education that they want to highlight. This format should be avoided if you have no work experience or higher education, if there are large gaps in your work history, or if you are switching fields.
Functional ones are a great option for those who haven't yet built up an extensive work history because the focus is on the applicant's skills instead. Think of it as focusing on what you can do rather than what you have done. When writing a functional resume, list your skills before your work history and education.
Combination format is a good choice for those who want to highlight a selection of skills and past jobs that are not necessarily related to each other. This format combines aspects of the chronological and functional CVs to allow applicants to highlight both their work experience and extensive skill backgrounds.
Once you've decided which format you're going to use, you can begin writing your piece.
Want to Save Time?
We can write a resume for you
Buy Resume
What's in It
Every CV should include some variation of the following sections: contact information, a career summary or objective, work experience, education, skills, certificates, and optional sections like hobbies/interests and languages.
Main Sections:
Contact Information. Your personal data appears at the top, before anything else. It includes your name, location, email address, and phone number. It should go without saying, but it must be accurate. Potential employers need to be able to reach you if they want to schedule an interview, they can't do that if you don't provide the right data.
Career summary or objective. This is a short section (two or three sentences), appearing below the contact information, that clearly states why prospective employers should read your entire CV. Use these sentences to highlight the most important things about you. Mention what you do, how long you've been doing it, and highlight a relevant achievement or two. It's important to capture the reader's attention with these sentences. If you don't, they may not read the entire text. Hiring managers and HR specialists don't have time to read every CV they receive carefully. So, they might have a quick glance at another CV and put it aside if there is nothing catchy. Make sure they can't help but read yours.
If you have little to no work experience, write an objective rather than a summary. The objective highlights your skills and achievements while making a statement about the type of work you are looking to do, or the company you are looking to work for. This is also a good idea for those looking to change careers because their goals and interests may not be conveyed in their current work history and skills.
Work experience. This is where you lay out your work experience, beginning with your most recent job. If you are new to the workforce, you may not have anything to put here, and that's okay. If you have a long work history, focus only on the jobs that are relevant to your current career goals. For example, if you are applying for a position of a system engineer at a tech company, they don't necessarily need to know that your first job was bagging groceries at the grocery store. When deciding which jobs to include in your work history, ask yourself how the job shows the hiring manager that you're worth interviewing.
Education. If you are fresh out of school, education is likely to be your most robust section. If you have been in the workforce for some time, include only your highest and most relevant degrees. If the education section is going to be the highlight of your resume, consider including information about any major academic achievements and publications you've been published in during your academic career. Include your GPA only if it is above a 3.0.
Skills. The skills section is designed to allow you to highlight the specific skills you will bring to the company. Typically, these skills are presented in a bullet-pointed list. Include only the skills that are relevant to the job you are applying for. This means you'll need to tailor your CV for each and every job you apply for.
Certificates. If you have any certificates relevant to the vacancy, include them in their own section. Certificates show employers that you go above and beyond when it comes to your education and professional development.
Optional Sections:
Hobbies/Interests. Employers like to know that you have interests outside of work. Some people choose to include a few of their interests or hobbies.
Languages. If you speak any additional languages, list them here.
Publications. If you have been published in a publication relevant to the job you are applying for, including the proper citation for your piece.
While your contact info should always come first, there is no one correct way to order the other sections of your CV. The order will largely be dictated by which format you choose to use, but you are always free to move things around if they don't suit you. What matters is presenting the information in the way that best highlights your value to the company.
Tips and Tricks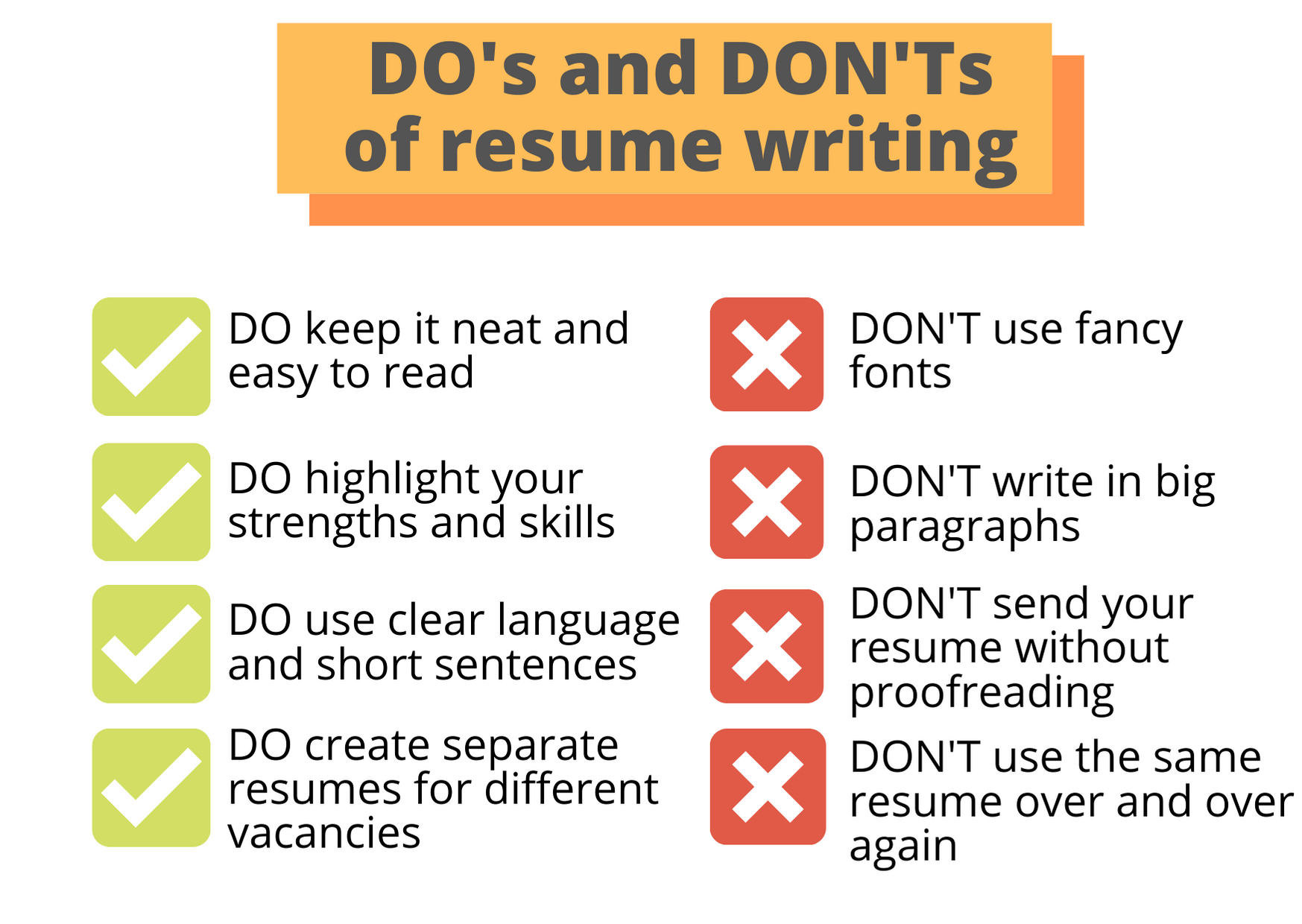 Now that you know the basics, here are a few tips and tricks to keep in mind.
Keep it to one page. Remember, hiring managers receive thousands of CVs a year. They don't have time to read pages and pages about each applicant. Keep it short and to the point. Include only the information most relevant to the vacancy.
Utilize white space effectively. The white space is just as important as the words on the page. You want it to be easy to read and understand. There should be ample white space evenly dispersed throughout the page, with clear margins.
Use a clear, professional font. This isn't the time for comic sans.
Use appropriate font sizes. It's generally agreed that CV fonts should go no lower than 10 or 11 pt. Do not shrink the font to unreadable levels just to fit everything on one page. Instead, revisit the content and remove anything that isn't a good fit.
Use clear, uniform section headings. You want the person reading the CV to have to work as little as possible. Pick one heading style and stick with it.
Edit and proofread. Errors on a CV can get it tossed into the recycle bin. Remember, your CV is just one of thousands each hiring manager will read each year. Every mistake matters. Take the time to edit and proofread, preferably more than once. Then ask a friend to do the same. There are even freelance professionals who specialize in a CV and cover letter writing and editing, for example, our team of experts.
Get some help. Finally, if you are overwhelmed by the prospect of distilling your multifaceted life down to one page, there are many templates available for free online. You can also turn to us as we can create a perfect resume for you.
Writing and updating your resume doesn't have to be stressful. Think of it as a living document. Take the time now, at the beginning of your career, to get your CV set up as best you can. Then, update it every time you get a new job, learn a new skill in your field, or when you are certified in something new. Keeping your resume updated will ensure you are always ready when new opportunities present themselves.